Announcing the Shimmer Network and Token
The full article was originally published by Shimmer on blog.shimmer.network. Read the full article here.
An Alternate Reality Awaits
TL;DR:
In order to accelerate the adoption of IOTA and validate its path to full decentralization, we are officially introducing Shimmer, an incentivized staging network with its own native token ($SMR). You can stake your IOTA tokens to get Shimmer tokens before the genesis launch. Join the Shimmer network to get early access to key innovations before they get released on the IOTA mainnet. Stake. Earn. Govern. Build.
After the successful completion of the IOTA mainnet upgrade earlier this year, the IOTA team and community have been focused on a series of upgrades to turn IOTA into a fully decentralized, programmable multi-asset ledger. Our primary objective right now is to empower our ecosystem with new opportunities which are only made possible thanks to IOTA's technical innovations and unique ledger architecture.
In order to achieve this objective and extend the range of possibilities with IOTA, the network is in the process of undergoing some major mainnet upgrades:
Programmable multi-asset ledger, with the introduction of output types and tokenization on the base layer. You can read more about it and the technical RFC here.
Smart Contracts, with the introduction of IOTA Smart Contracts, for which we have recently released the beta version.
Full decentralization, with the IOTA 2.0 protocol.
Sharding and further optimizations.
Each of these phases introduces many highly-anticipated features that elevate IOTA to new levels of functionality and adoption; but each phase also introduces potential risks, uncertainties and potential bugs related to the network upgrades, application integrations and token migrations. Considering the enormous value of the IOTA economy today, we have to ensure that every release candidate has been publicly validated and tested by the community, and thoroughly battle-tested by adversaries.
Looking at the available options to launch yet another testnet (for which activity usually subsides after initial excitement) or yet another Bug Bounty program (they are usually difficult to structure in ways that satisfies everyone, with no budget ever being seen as sufficient), we have opted for a third option: Launching an incentivized staging network with its own token.
Today we are happy to announce Shimmer, the incentivized staging network for IOTA.
Why Shimmer?
Every major upgrade of a distributed ledger (DLT) network is faced with the same challenge: How do we ensure that there was enough public testing, stress tests and even attacks to safely upgrade the mainnet with new features? With these networks holding billions in token value, this is not an easy challenge to overcome. For example, the Chrysalis release required nearly five months of public validation before the eventual mainnet release.
As we've seen with the success of the first incentivized Ethereum testnet in 2016, or the Kusama network and Polkadot, defining incentives is essential to increase public participation and validation and shorten release timelines. In fact, the entire DeFi ecosystem can be seen as a large innovation playground meant to battle test and validate dApps and new financial building blocks. After all, "testing in prod" is more than just a meme – it's a mindset to accelerate the adoption of new innovations; knowing full well what the associated risks are.
In a similar spirit, we are accelerating the development and adoption of IOTA, while making sure that every upgrade intended for the IOTA mainnet has been carefully tested, audited and reviewed for release. While we want to be fast and deploy releases as early as possible, it is of utmost importance to protect a token economy with considerable value locked into and the hundreds of thousands of IOTA users.
This is why we are launching Shimmer. An innovation playground for builders to get early access to IOTA's innovations, Shimmer is also an open, permissionless network with the right token incentives for adversaries to attack. Together with our community we want to embark on a journey into the unknown, to be bold and to progress faster; much faster than previously possible.
The objectives of Shimmer are:
Accelerate the adoption of our technologies by giving builders early access and inviting them to launch their dApps on Shimmer, making them automatically ready to migrate once an upgrade reaches the IOTA mainnet.
Build developer tooling, documentation and integrations early, making potential migrations for dApps and third parties (like exchanges and DeFi platforms) a smooth experience.
A new token economy that rewards participation of the community and adversaries.
Incentivized testing and public validation. This ensures that all major upgrades pose no significant risk to token holders or applications in the ecosystem, making upgrades quick, secure and painless for all network participants.
Become a fully community-governed network that maximizes for decentralization and utilizes DAO's to fund initiatives and govern the network.
Make it easier for our community to participate in a more transparent development process. Have fun building together.
What is Shimmer?
The Shimmer network will be the official, incentivized staging network of IOTA. It will be an essential part of IOTA's path to increased utility, ecosystem growth and full decentralization. Shimmer will help to publicly validate every major upcoming upgrade before they reach the IOTA network.
Shimmer will also play an essential role in ensuring that every upgrade of the network will be followed by a smooth and secure transition for all token holders and applications. Especially for the upgrade to IOTA 2.0 (full decentralization and the Coordicide), we need to make sure that the transition is carefully planned and executed. Shimmer will be a guide for IOTA and all of its network participants, helping to minimize risk and maximize the safety of all future network upgrades.

All development goes through four phases: new features are being developed, tested in a limited test environment, released on Shimmer to be validated in a public environment, to be released on IOTA
Launched as an open and permissionless network, anyone is able to join the Shimmer network, build on it, and even attack it. In this way, Shimmer will become a long-term staging network that enables the IOTA ecosystem to test new solutions faster with higher stability than typical testnets. With Shimmer, the IOTA universe will benefit from a rapid development environment for faster innovation cycles. Ultimately, it is up to the community to realize the potential of Shimmer.
The landscape of Shimmer applications may begin small, but – depending on the community's involvement – it is expected to grow as more discover its full potential and want to participate. There is an entire ecosystem of new tokenization, digital assets, NFT and DeFi use cases to build.
Partners and service providers already integrated with IOTA will easily be able to integrate Shimmer and the Shimmer token with no significant development overhead. For the launch, the following IOTA applications and tooling will offer full support for Shimmer:
Firefly Wallet
Node Software
Permanode
All libraries and tooling
The Shimmer Token ($SMR)
The Shimmer network will have its own native token: $SMR. The token will be the economic backbone of the Shimmer network, facilitating transactions and interactions within the emerging ecosystem. We leave it up to the pioneers and the early adopters of Shimmer to provide utility to the token by being the first to launch new DeFi, NFT, DAOs and other dApps.
We will also introduce staking rewards to the Shimmer network. By staking your Shimmer tokens you will earn staking rewards for securing the network. With Shimmer we don't just want to develop new technical innovations, but also economic ones and find ways to further improve and optimize our emerging crypto-economic networks.
Shimmer Tokenomics:
Stake your Shimmer tokens and earn rewards
Be an early adopter of the Shimmer dApp ecosystem and be part of new yield opportunities launched on the Shimmer network. Every dApp that will launch on the IOTA network has a clear incentive to also build on Shimmer. Even beyond that, Shimmer will evolve into its own ecosystem and community.
Govern and be a part of shaping the future of Shimmer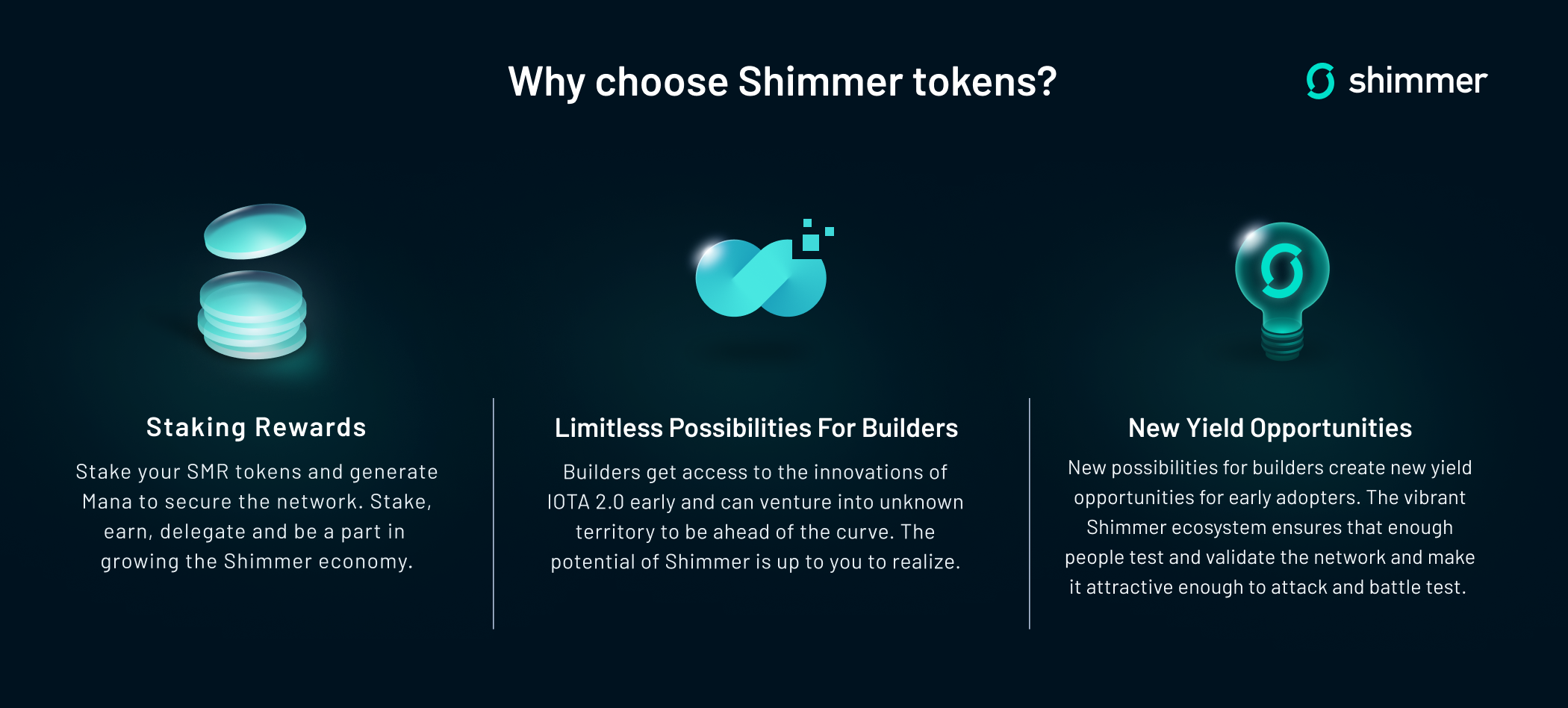 Launching the Shimmer Token Economy with IOTA
The Shimmer token will be fairly launched by distributing all tokens to anyone staking IOTA tokens over a three-month staking period. This means that there is no pre-mine or allocation reserved for specific entities. The IOTA token is the launchpad for the Shimmer token.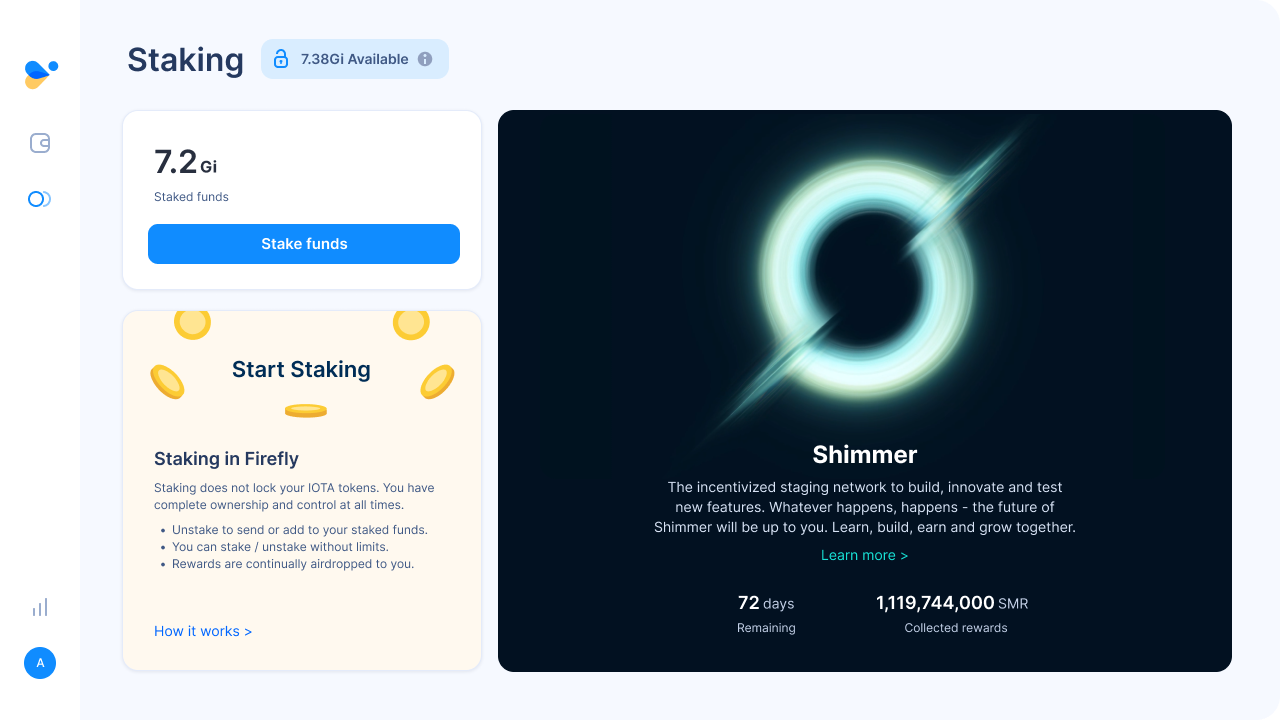 The Shimmer token distribution will be determined through staking IOTA tokens within the IOTA Firefly wallet. In an upcoming Firefly release, users will be able to easily stake their IOTA tokens within the wallet and receive Shimmer token rewards into the same wallet. The terms are fairly simple: For every 1 MIOTA you stake, you will receive 1 Shimmer Token every ~10 seconds. Staking rewards will be accessible within your Firefly wallet. Tokens can only be transferred with the actual launch of the Shimmer network in the near future.
IOTA Staking summary for Shimmer:
Staking Reward: 1 MIOTA = 1 Shimmer Token
Distribution: every ~10 seconds
Maximum staking duration: 90 days
Liquid staking, you can easily unstake your tokens. There is no lockup of any kind
After the Shimmer network launch, users will be able to stake their Shimmer tokens on the Shimmer network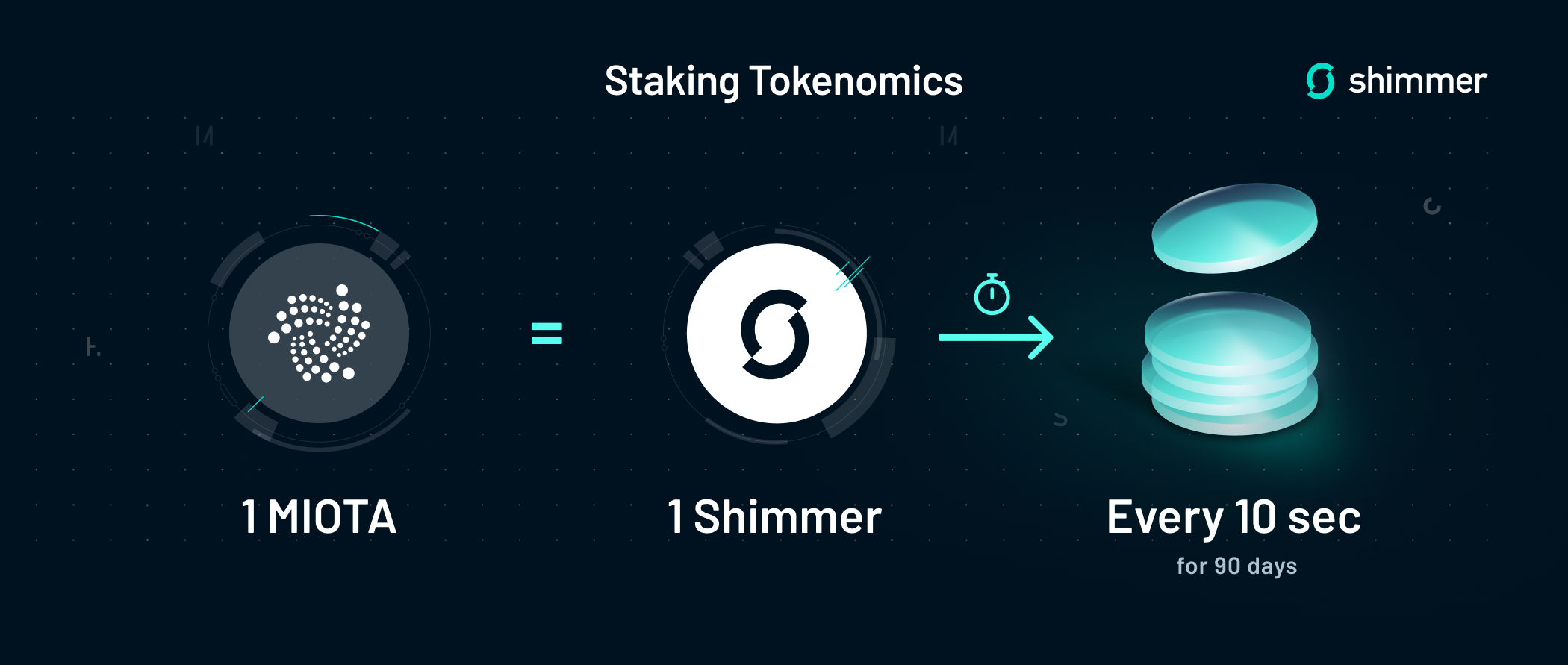 You can calculate potential rewards using a rewards calculator on the Shimmer website here.
IOTA Staking will begin shortly. We will only share the exact date 24 hours in advance, to make it as fair as possible for the community. If you believe in the future of decentralization and want to be an early adopter of Shimmer, don't miss this opportunity to be a part of the launch of the Shimmer token economy.
Embark on a journey into an alternate reality together with us.
Let's build.
---
Follow us on our official channels and get all the latest Shimmer news!
Discord | Twitter | LinkedIn | Reddit