IOTA Staking for Assembly: Round 5
The full article was originally published by the IOTA Foundation on blog.iota.org. Read the full article here.
Welcome to the Latest Round of Staking IOTA for ASMB
TL;DR:

The fifth round of IOTA staking for the Assembly network (ASMB tokens) starts at 15:00 CET today, Wednesday, 8 February 2023, with a three-day pre-staking period This will be followed by a 90-day staking period from 11 February 2023 to 12 May 2023, during which participating IOTA token holders will receive staking rewards.
The fifth round of IOTA staking for ASMB, the token of the Assembly network, begins with a three-day pre-staking period starting today, Wednesday, 8 February 2023, at 15:00 CET. This will be followed by a 90-day staking period, starting at 15:00 CET on 11 February and ending at 15:00 CET on 12 May 2023.
This follows four previous staking periods. In total, 20% of the entire Assembly token supply is allotted to IOTA stakers, set to be distributed over the course of 24 months.
To participate in the fifth staking round, the 1.7.1 release of the Firefly wallet needs to be used: please download it from firefly.iota.org. Not only does Firefly enable you to take part in this latest staking round, but it also displays the total number of tokens distributed to you in the previous four staking periods, as well as tracking your current token rewards.
Assembly Staking Round 5: Timeline

15:00 CET, 8 February – 15:00 CET, 11 February 2023: Users can start pre-staking their IOTA tokens during the three-day pre-staking period, which starts at 15:00 pm CET. Users must use version 1.7 of the Firefly wallet.
15:00 CET, 11 February  – 15:00 CET, 12 May 2023: staking period. As soon as the pre-staking period ends, users will start receiving staking rewards in their wallets over 90 days, starting at 15:00 CET.
For each MIOTA staked, IOTA stakers will receive 0.000001 ASMB every 10 seconds (or one microASMB) for up to 90 days. Each staked wallet must reach a minimum amount of 1.0 ASMB (1,000,000 microASMB) during this period for the airdrop to be received.
Rewards from previous distributions do not count towards this minimum.
Staking with Firefly: Step-by-step
To begin staking, make sure that you have installed version 1.7.1 of the Firefly wallet from firefly.iota.org, then follow these steps:
Enter your PIN to log into your profile and navigate to the staking tab. If you can't see your balance from previous staking periods, please use the Balance Finder under Settings.
2. Here you will either be able to "pre-stake" or "stake your tokens" (depending on which period you are accessing your wallet in): the three-day pre-staking period or the 90-day staking period (see Timeline above for dates).
Each wallet that belongs to a user profile must be staked separately. When you mark IOTA tokens for staking, a transaction is sent to you with attached metadata to indicate that you wish to stake with the marked funds. Any funds staked in a given wallet will be sent to an address on the same wallet, requiring tokens in every wallet to be individually marked for staking.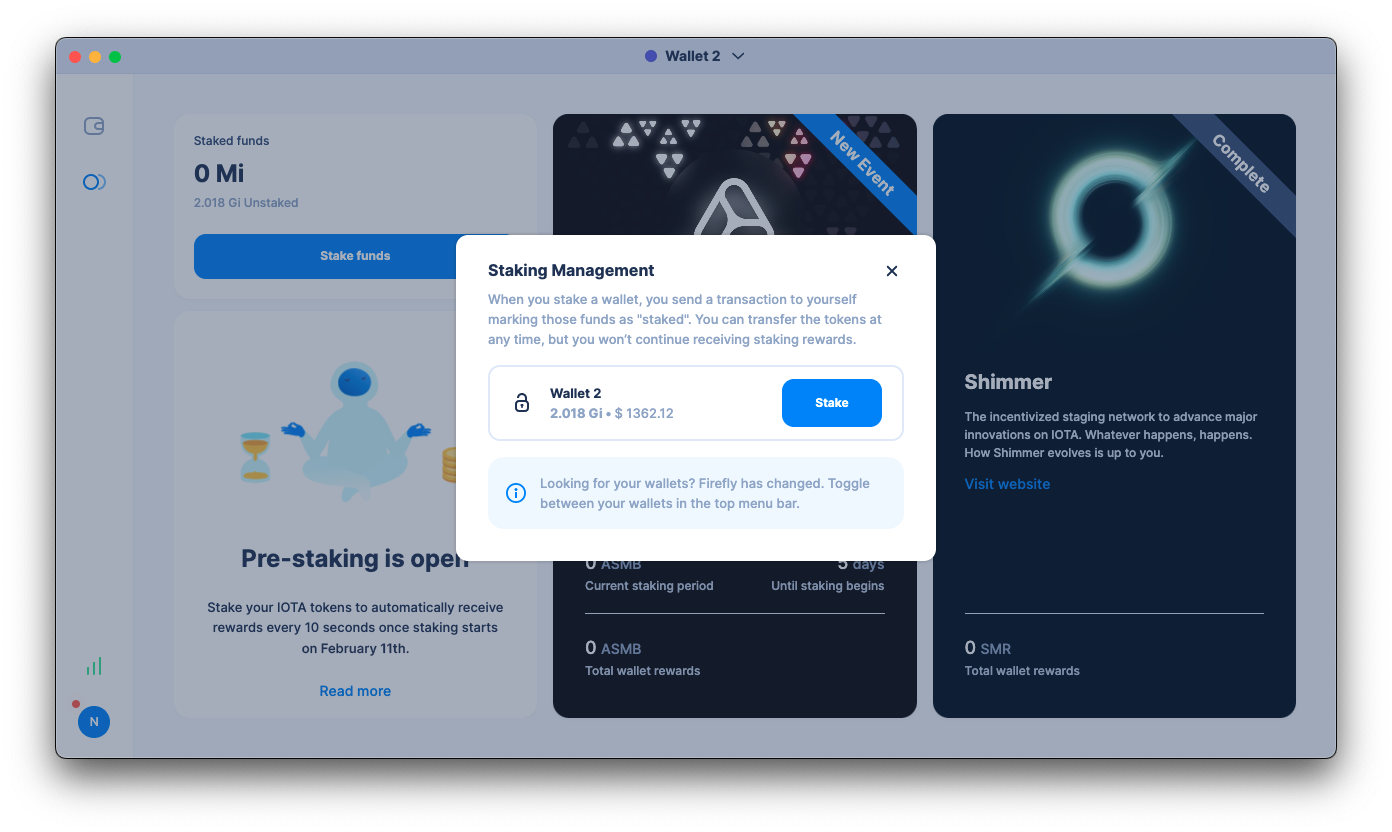 3. To stake a wallet, simply hit the Stake button. Please note that the app doesn't have to be open to receive the airdrops once you have started staking.
4. Once you hit "confirm", Firefly will issue the special staking transaction. When this transaction has been confirmed, the user interface will update to show that you are now ready for staking!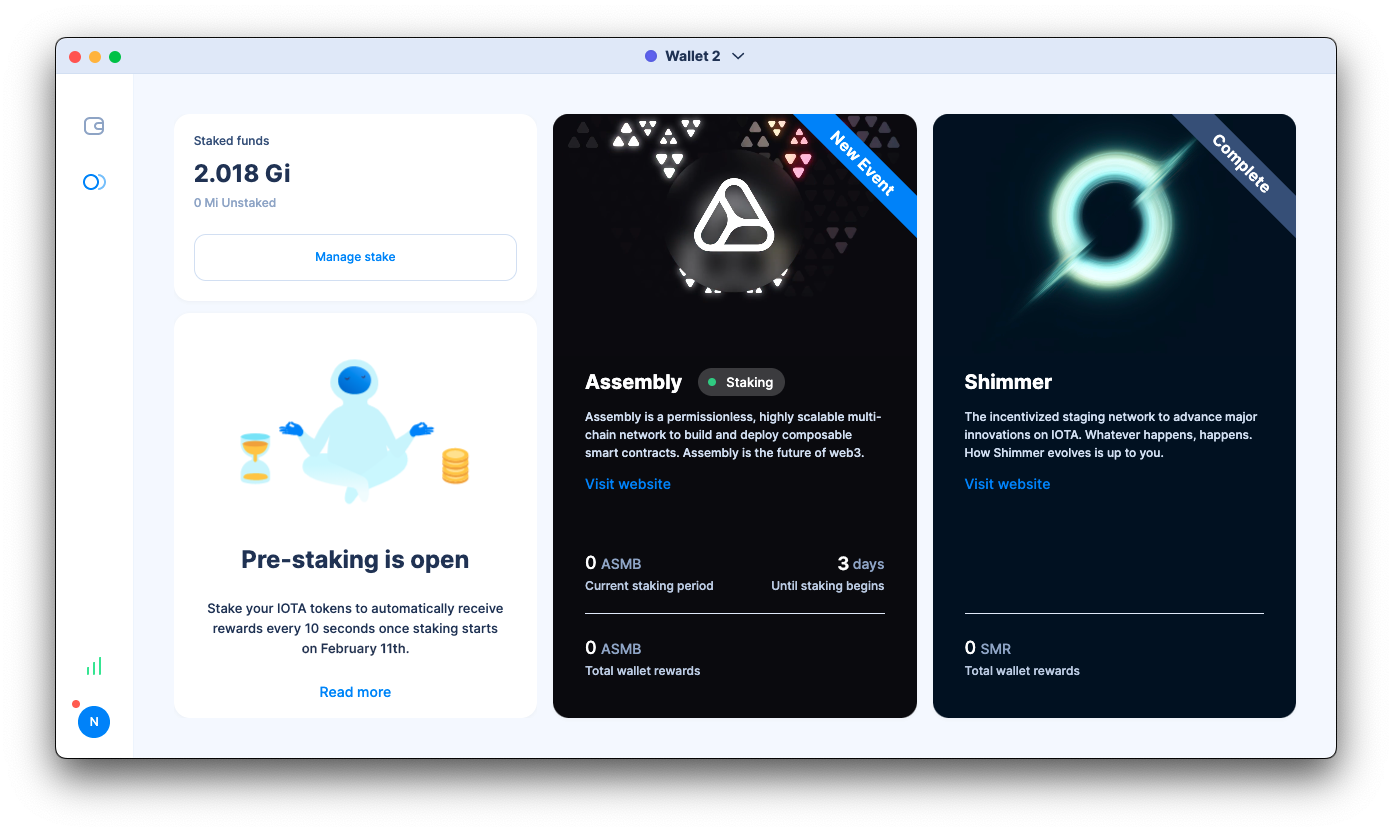 Once the three-day pre-staking phase has finished, you will start receiving your ASMB rewards in your wallet. You can see the total rewards per wallet by navigating to the staking tab in each wallet.
You can also begin staking at any point after reward distribution officially starts on February 10. Your rewards will simply be less, as you won't have participated for the full token distribution period.
Please note that:
You can send your staked tokens from a staked wallet at any time. But if you do, you will need to manually re-stake any remaining tokens. Firefly will warn you if you try to send tokens that have already been staked.
Because of dust protection, you must earn a minimum number of token rewards per address in order to receive the tokens when the Assembly network launches. The minimum reward for Assembly is 1 ASMB for each staking period. Firefly will inform you if you haven't yet reached the minimum reward value.
If you receive additional funds on a staked wallet, you'll need to manually stake those tokens. Firefly will warn you if you receive tokens on a wallet that is already being used for staking.
---
Follow us on our official channels for the latest updates:
Discord | Twitter | LinkedIn | Instagram | YouTube