Knowing about TWO – IoT waste management
The full article was originally published by Daniel De Michele on IOTA Hispano. Read the full article here.
We all know that IOTA is much more than a token, it is the token that pretends to be the protocol for the Internet of Things, based on that, we can say that IOTA is much more than the value of the currency, if not that its architecture and features of this Open Source technology allows the community of developers and entrepreneurs to develope PoCs that can be used to improve some problems that we are facing in our daly lives.
I invite you to know one of the most interesting developements that Hamoun Karami and Michael Carmody are working on  in their company TWO: IOT Waste Management.
Gabriela Jara
Content Coordinator & Writer
IOTA Hispano
If you like what we are doing help us to continue working! Donate: https://iotahispano.com/donate/
KNOWING THE PROBLEM
Waste is considered one of the biggest environmental problems of our society. The population and the  consumption grow per capita, and therefore the garbage; but the space does not and also its treatment is not adequate. The world's urban population now stands at 3.7 billion people, and this number is expected to double by 2050.
Only at the City of Buenos Aires, in 2017, 17mil tons of waste were generated, and 2500 waste collection trucks are used every day to carry the waste of 15 million people living in the province of Buenos Aires, Argentina and many times the collection service is suspended due to different problems. It cost millions of dollars to collect, manage and remove to the cities, so applying technologies with IoT devices is a very good idea at this point.
KNOWING THE SOLUTION

Within the IOTA Ecosystem web page we can find a company that is facing this problem putting on the table IOTA and the management of waste, recently I had the opportunity to make a brief interview with one of the responsables behind this idea, Hamoun Karami; and he told us that TWO aims to solve inefficiencies in the waste management market by using two core technologies; The internet of Things  and Distributed Ledger Technology. They have developed a little sensor that is able to measure the real-time fill level of waste containers and sends the data to the cloud.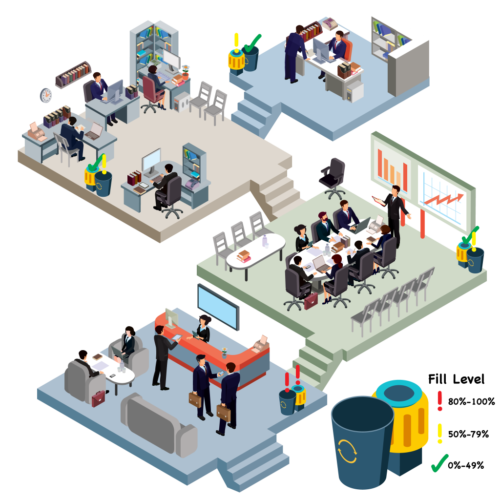 The ultimate vision of TWO is to create an ecosystem where waste management is transparent and autonomous. DLT technology enables us to create a trust-less environment. It also enables to process micro-transactions per bin that is changed. They want to create a future where multiple companies can keep the cities clean and create a more competitive landscape.
The full article was originally published by Daniel De Michele on IOTA Hispano, where people are continuing the conversation by highlighting and responding to this story.