Dr. Rolf Werner talks about Blockchain, AI and Industry 4.0 in the first German-Japanese ICT dialogue
It was a first. The focus was on the topics Blockchain , AI and the Industrial Internet . It was about key technologies for the future development of Germany and Japan. High-ranking representatives from politics and business sat at a table at this premiere at the Hanover Exhibition Center. We are talking about the " Germany – Japan ICT Business and Policy Dialogue ". The Federal Ministry for Economic Affairs and Energy (BMWi) had invited guests in cooperation with the Japanese Ministry for Internal Affairs and Communications (MIC).
The dialogue was part of two-day consultations between the two ministries. The exclusive event at CeBIT was about meeting the needs of the companies and economies of both countries, as well as identifying and identifying key development trends. On this basis, the participating ministries want to develop suitable programs to further promote the economy and prosperity in Germany and Japan and to promote and expand cooperation between the two countries.
Stefan Schnorr , Head of Digital and Innovation Policy Department at the BMWi , and Masahiko Tominaga , Vice Minister in the Japanese MIC , led the dialogue and encouraged companies and business associations to exchange more about key innovation topics and to learn from each other. It was important, in particular, to look at the opportunities and not primarily at risks.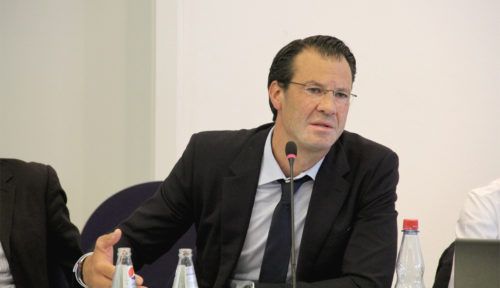 Dr. Rolf Werner, CEO of Fujitsu, gave a keynote speech on the importance of important future technologiesfor the locations Germany and Japan and illustrated this with the example of Blockchain. He explained why Blockchain is a key technology for the future of both economies and showed the opportunities and concrete application fields, also with regard to the importance of industrial production of both export nations.
More short lectures were given on the current topic of GDPR . Especially the challenges, but also the benefits of the new regulation for economy and consumers of both states, there were exciting discussions. The question of how far policy should create test rooms in order to be able to test new technologies transparently in a protected area in practice was also examined.
The topic Cybersecuritiy was well received. Here company representatives first presented their strategies and then discussed the challenges and political support with all those involved. By participating in this event, Fujitsu has been able to provide important impulses for innovation and technology policy and to take important suggestions for its own research and development activities.