IOTA is part of the Climate Chain Coalition
The Climate Chain Coalition (CCC) is an open global initiative to support collaboration among members and stakeholders to advance blockchain (distributed ledger technology) and related digital solutions (e.g. IoT, big data) to help mobilize climate finance and enhance MRV (measurement, reporting and verification) to scale climate actions for mitigation and adaptation.
During the One Planet Summit on December 12, 2017 in Paris, France (the 2nd anniversary of the Paris Agreement), a multi-stakeholder group of 12 organizations working on distributed ledger technology (DLT, i.e. blockchain) held a meeting to agree to collaborate and establish an open global initiative called the Climate Chain Coalition (CCC). As of May 2018, over 80 organizations have joined the CCC.
The Climate Chain Coalition membership agreed on shared principles and values to facilitate and guide activities for capacity building, networking, research, governance, demonstrations and pilot projects.
As a member of the Climate Chain Coalition, the organization agrees to cooperatively support the application of distributed ledger technology ('DLT', including 'the blockchain') and related digital solutions to addressing climate change by adhering to the following shared principles and values:
1 Alignment with the long-term goals of the Paris Agreement
We recognize the massive challenge and urgency of global transition to a low-carbon and climate-resilient economy and align with the goals of the Paris Agreement. We will cooperate to support immediate actions by and for blockchain and related digital solutions that contribute to the achievement of this transition.
2 Advancement of DLT for Better Climate Change Solutions
We will cooperate to support the rapid advancement of DLT solutions to address climate change across mitigation and adaptation through enhanced climate actions, including but not limited to the measurement, reporting and verification (MRV) of the impact of all sorts of intervention, and the mobilization of climate finance from diversified sources.
3 Collaboration within the Scope of the Coalition
On the basis of these shared principles and values, we will collaborate on concerted activities and in the dissemination of outputs in relation to DLT solutions and support stakeholder capacity building with regard to the deployment of shared tools and systems to advance climate change governance, especially in developing countries.
4 Technology Neutrality
We recognize that DLT evolves constantly and therefore, maintain a neutral position regarding the applicability of DLT.
5 Commitment to Standardization
We will collaborate to establish basic standards in the development of related tools in support of the efficacy of DLT applications for climate change governance.
6 Dissemination of DLT Benefits
We will collaborate on DLT-related solutions to be developed in the interest of cost-effectiveness, integrity, transparency, and empowering stakeholders in socio-economic systems.
7 Fraud Mitigation
We will collaborate on a proactive strategy to identify and seek to mitigate fraudulent activities associated with the application of DLT in climate change and sustainability governance in general, as appropriate.
8 Responsibility for addressing challenges attributable to DLT applications
As organizations concerned about environmental integrity generally and climate change specifically, we recognize some negative effects and current challenges of many DLT applications (in particular those using the blockchain with proof of work consensus) regarding their levels of energy consumption and GHG emissions. We are transparent and forthcoming while we actively seek appropriate solutions to address these challenges.
9 Sustainable Development Goals
We recognize that climate change is one of the Sustainable Development Goals (SDGs) and will encourage the development of DLT-based innovations for climate change which can simultaneously contribute to the achievement of SDGs.
UNFCCC support for CCC
Suppose information important to tackling climate change – such as an industry sector's greenhouse emissions – were continually updated from a multitude of sources and shared in an open and transparent way. Crucial information would be readily available, up-to-date, transparently displayed and reviewed for accuracy.
This is the promise of so-called distributed ledger technology (DLT), the benefits of which seem limited only by the imagination of people familiar with the technology. The most well-known application of DLT and blockchain technology has been for creation of e-currencies, such as Bitcoin.
Blockchain technology is based on a mutual distributed network, which allows for high-level trust among users and better monitoring over the stored data.
To encourage exploration and eventual use of this technology in support of climate action, the UN Climate Change secretariat initiated and facilitated the creation of the Climate Chain Coalition and contributed to the writing of its charter of principles and values (below).
"The UN Climate Change secretariat recognizes the potential of blockchain technology to contribute to enhanced climate action and sustainability," said Massamba Thioye, who is leading UN Climate Change's work exploring DLT and blockchain.
DLT and blockchain could:
strengthen monitoring, reporting and verification of the impacts of climate action
improve transparency, traceability and cost-effectiveness of climate action
build trust among climate actors
make incentive mechanisms for climate action accessible to the poorest
support mobilization of green finance.
"To fully and promptly mobilize this potential, broad collaboration among stakeholders is needed to direct resources to priority areas, avoid duplication of effort, and help avoid the pitfalls of working on a new technology with countless unknowns," said Mr. Thioye.
There are currently about 32 members signed up to the coalition, and membership is open. (See below.) For more information on DLT and blockchain, see
How Blockchain Technology Could Boost Climate Action
Experts meeting at the recent UN Climate Change Conference in Bonn in May have said that a new technology called "Blockchain" could play a major role in tackling climate change.
A Blockchain is a distributed database that is continuously updated and verified by its users. Each added block of data is "chained" and becomes part of a growing list of records, under the surveillance of network members. This technology enables the transfer of assets and the recording of transactions through a secure database.
"As countries, regions, cities and businesses work to rapidly implement the Paris Climate Change Agreement, they need to make use of all innovative and cutting-edge technologies available. Blockchain could contribute to greater stakeholder involvement, transparency and engagement and help bring   trust and further innovative solutions in the fight against climate change, leading to enhanced climate actions," said Alexandre Gellert Paris, Associate Programme Officer at the UNFCCC.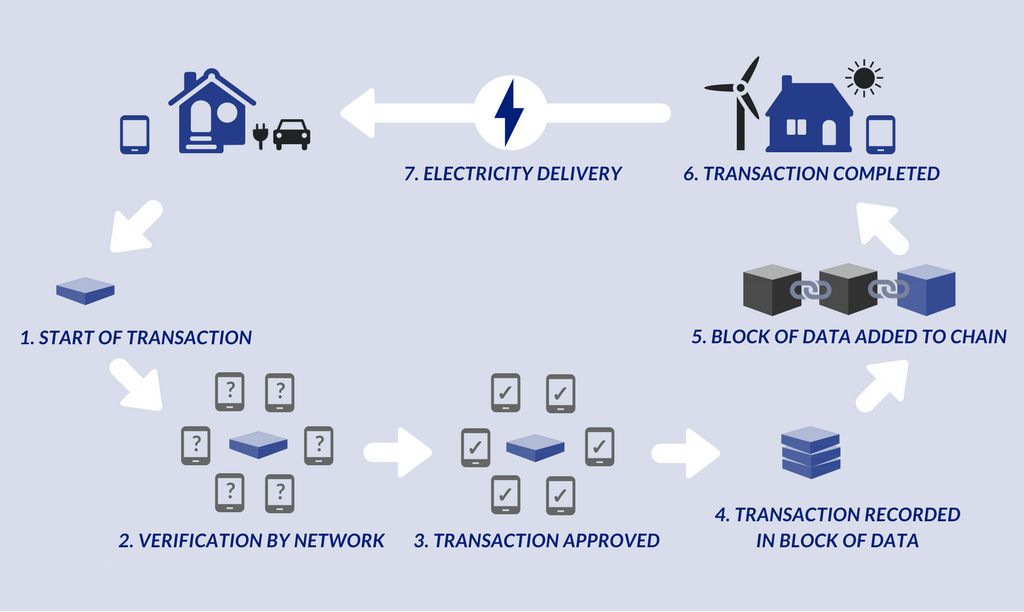 Blockchain technology can be used to develop peer-to-peer trade of clean energy, for certified and facilitated transactions among consumers.
For climate action, Blockchain technology could be used in the following specific ways:
Improved carbon emission trading:
Blockchain could be used to improve the system of carbon asset transactions. For example, IBM and Energy Blockchain Lab are currently working together to develop a Blockchain platform for trading carbon assets in China. Recording carbon assets on a public Blockchain would also guarantee transparency and ensure that transactions are valid and settled automatically.
Facilitated clean energy trading:
The technology could also allow for the development of platforms for peer-to-peer renewable energy trade. Consumers would be able to buy, sell or exchange renewable energy with each other, using tokens or tradable digital assets representing a certain quantity of energy production.
Enhanced climate finance flows:
Blockchain technology could help develop crowdfunding and peer-to-peer financial transactions in support of climate action, while ensuring that financing is allocated to projects in a transparent way.
Better tracking and reporting of greenhouse gas (GHG) emissions reduction and avoidance of double counting:
The technology could provide more transparency regarding GHG emissions and make it easier to track and report emission reductions, thereby addressing possible double counting issues. It could serve as a tool to monitor the progress made in implementing the Nationally Determined Contributions, or "NDCs" under the Paris Agreement, as well as in company targets.
Advantages of Blockchain Technology
The first major application of Blockchain technology was the Bitcoin digital currency, launched in 2009, allowing online payments to be transferred directly, without an intermediary. The currency is meanwhile used by millions of people for payments.
Blockchain, the underlying technology operating the Bitcoin should be separated from the currency. It has many other applications in inter-organizational cooperation, including as an efficient way to keep record of transactions and manage data.
Blockchain technology is based on a mutual distributed network, which allows for high-level trust among users and better monitoring over the stored data.
More Work Needed for Blockchain to Fully Support Climate Action
Because of its distributed nature, Blockchain could improve governance and sustainability in support of collective action aimed at tackling climate change. As opposed to centralized or decentralized networks, Blockchain prevents monopolistic control over the system. The technology also records transactions openly and permanently, thus fostering transparency and traceability.
Research on ways to integrate Blockchain into different sectors related to sustainable development is now expanding, and innovation at the intersection of Blockchain and climate change is expected to further develop in the coming years.
Blockchain was also the topic of key sessions during the Innovate4Climate 2017 conference in Barcelona this May, the most important gathering of the private sector on climate change organized by the World Bank Group and others.
The United Nations Climate Change (UNFCCC) secretariat recognizes the general potential of Blockchain technology. In particular, transparency, cost-effectiveness and efficiency advantages, which in turn may lead to greater stakeholder integration and enhanced creation of global public goods are currently viewed as the main potential benefits. The secretariat, therefore, specifically supports initiatives that lead to innovation at the intersection of Blockchain and climate. One of such initiatives is the "Blockchain for Climate" hackathon to be organized by the government of Liechtenstein, Cleantech21, INFRAS and ETH Zürich, in the margin of COP23.